Defender II
1.4.6
Tower Defense Game – Protect Your Castle from Invading Monsters
Do you like playing action games? Is killing monsters a favorite leisure-time activity of yours? If yes, then you will find this tower defense game right up your alley. Defender II is a fun game which requires you to guard your castle against wave after wave of monsters using arrows and various types of magic spells. It is similar in design to Plants vs Zombies as your ultimate goal is to safeguard your home. However, instead of the zombies, you have monsters attacking in this game and the weapons you have are a bow and various tower defenses. The fast-paced gameplay makes it an engaging game while its stunning graphics let you enjoy the action in great detail which adds to the fun quotient.
Defender II is an easy-to-play game and it doesn't take much time to master its controls. You can fire arrows from your bow towards the monsters by tapping on them. To continue firing the arrows, you simply have to hold your finger on the screen in the direction of the invading monsters. You can kill multiple monsters in a single go by casting magic spells too. In order to cast a spell, you need to select the spell and then tap on the general area where you want it to strike. Depending on the strength of the spell, you can wipe out all the monsters present within its blast radius or freeze them for a small period of time. You need to have enough mana available in order to cast a spell.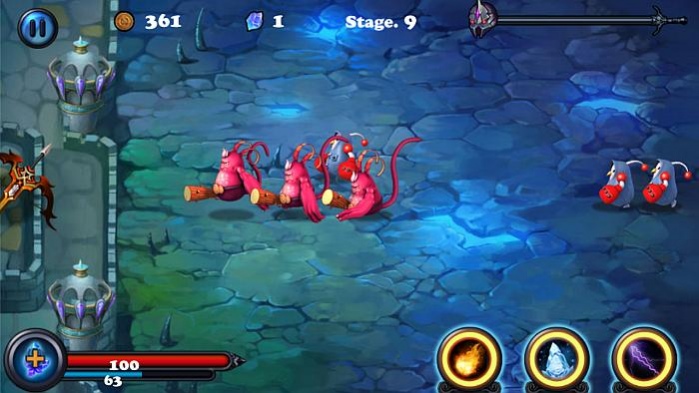 You will get to battle a number of different types of monsters in this tower defense game. Some of the monsters are easier to kill and require only a single arrow to take down. However, other monsters are stronger and can't be eliminated so easily. Some of the advanced monsters even fire energy blasts at your defenses too and have the ability to change direction. Such monsters can only be defeated by upgrading your weapons and leveling up your magic spells. You can perform the weapons upgrade and enhancement of magic spells by spending the coins and mana crystals you earn while playing Defender II. The coins can also be used to upgrade your castle's defenses like the city wall, magic tower, and lava moat.
Defender II provides multiple game modes to you, which include a local mode and a battle mode. In the local mode, you have to complete stages by killing all the monsters that invade your castle while preserving your health. You get to compete with other online players in the battle mode wherein the goal is to survive longer than the opponent. For each stage you complete and each battle you win in this tower defense game, you get coins and mana crystals as a reward. These resources can be used for strengthening your defenses, upgrading your weapons and increasing your mana cap.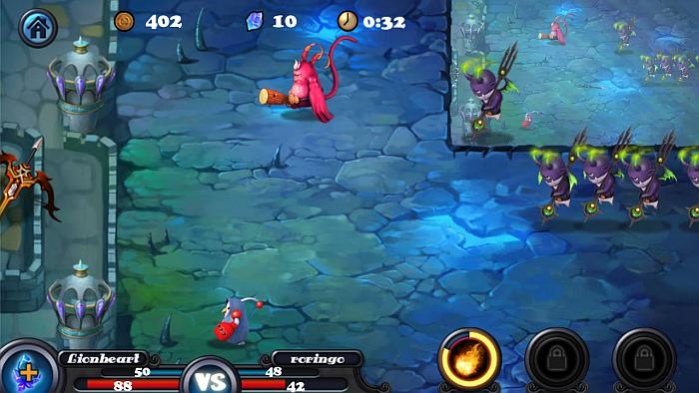 Features
Multiple game modes
Lots of stages to complete in the local mode
Compete with other online players in battle mode
Defend the castle from waves of monsters
Various types of monsters to deal with
Wide selection of bows to kill the monsters
Level up the weapons to deal more damage
Magic spells for killing multiple monsters simultaneously
Enhance the strength of spells by leveling them up
Option for upgrading your defenses
Increase mana for casting more spells during a battle
Conclusion
Defender II is a gaming app which is designed for people who are fans of action games and love fighting monsters. It lets you safeguard your castle against multiple waves of various types of monsters that want to tear down your defenses. It is an excellent tower defense game which can keep you entertained for hours on end.
---
Add a review
Tell us your experience with
Defender II
1.4.6
RELATED PROGRAMS
Our Recommendations
---
---
---
---